If a nasty storm comes through, and you suspect roof damage, one of the best things you can do to mitigate further damage is to tarp your roof. You could either call a professional or do it yourself. If you're feeling adventurous and love to do it yourself, then this article will show you how to tarp a roof (the right way) and protect your home until you can get it repaired.
The Importance of Tarping Your Roof After a Big Storm
A tarp on your roof doesn't look cute, but it can sure protect it from further damage and leaks if done right. Unfortunately, when a big storm hits a large area, it can cause delays for emergency roof repair. That's why knowing when and how to tarp your roof is essential to protecting your home, especially if there's more bad weather on the horizon.

How to Tarp A Roof: 6 Simple Steps
If you're smart, you already have tarps on hand, especially in areas prone to tropical storms or hail. However, if not, that's ok. Simply head to your local hardware store and pick up some large blue tarps. They come in various sizes: from 12 x 12 up 20 x 40 feet. If you have a large roofing area, you might want to pick up a few to ensure complete coverage, should you sustain extensive damage.
Once you've acquired your tarps, here are the steps to take to tarp your roof (if it is safe to do so).
1. Assess the Roof Damage
If you can't assess the damage from where you are, it's best to stay away. You don't want to be up there if your roof is still giving way or has started leaking inside, and water could potentially fall on top of you as well. If that happens, then a tarp won't help at all, and you'll be facing much more significant repairs. If it is unsafe to assess your roof damage on your own, immediately call a professional to do a thorough and safe inspection of the damage. They can also get the ball rolling on an estimate and schedule your repair.
2. Check the Weather Forecast
If more severe weather is coming, the last thing you want to do is be up on the roof, laying your tarp when lightning or strong winds come through. Your life and safety are much more important than your roof, and you should heed with caution.
3. Make Sure it's Safe
Your roof should be easily accessible and show no signs of structural damage before you get up to lay the tarp. Severe damage to a roof's integrity can mean additional damage could occur if you attempt to do anything up there. In this case, call an experienced roofer to start with emergency repairs.
4. Measure the Surface Area
If it is safe to do so, grab your tape measure and begin by measuring the damaged area that needs a roof tarp, and this will give you a good idea of how many tarps you'll need, plus whatever supplies to lay it down and adhere it in place.
5. Position Your Tarp and Hold it Down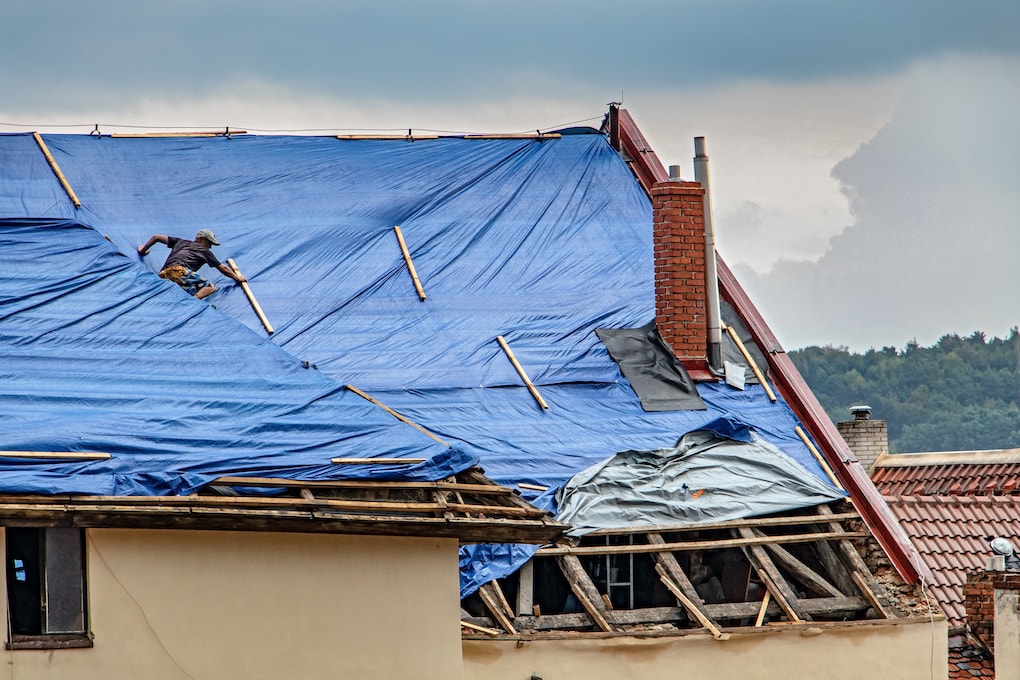 Grab your tarps and lay them down over the damaged area. Ensure they are fully covered without gaps or sagging (you don't want to create more damage). You also want to make sure that there's an overlap of about four feet all around so water can't get under and seep into the seams. You will want to use wooden boards as a temporary fix to hold the tarp down. You can start at the roof's peak, lay down the anchor board, and let any excess tarp hang over the edge.
6. Secure the Tarp in Place
Secure the tarp in place by using nails on each side of the board, and then go back to a previous nail you've secured so as not to have any visible holes in your tarp. You'll also want to make sure the boards are secure enough themselves because they can flex during strong winds causing possible damage if too weak. Finally, your tarp should be fully sandwiched between the boards and the roof, creating a tight enough seal to withstand any further weather and prevent water from getting underneath.
Safety should be your top priority whenever it comes to roofing work. You should always avoid tarping your roof if it is unsafe to do so: because the damage is severe, the weather is getting worse, or you do not have the proper safety equipment to get the job done. Instead, always call a professional roofing contractor to tarp your roof if you cannot do it safely. Many contractors will even offer emergency tarping along with their roof repairs in the case of severe storm damage.
Contact Our Team Of Storm Damage Professionals
At Gouge Roofing, we are dedicated to ensuring everyone has a safe, solid roof to protect their home. When a devastating storm comes through, we will be there to help. Our thorough storm damage repair service includes inspections, damage analysis review, and easy scheduling to get your damaged roof repaired as soon as possible. Call Gouge Quality Roofing for a FREE quote.