Your choice of siding does more than improve the appearance of your home's façade. It also protects your home from the elements, impacts your home's value, and affects your utility bills. 
Comparing vinyl siding vs. aluminum siding is an easy way to get started on the decision to replace your home's siding. And this brings various questions from homeowners. Which siding is cheaper? Which is more durable? Which will last longer? Is one siding superior to another? Which siding material is best for my home?
We'll answer these questions here to help you make an informed decision.
Overview: Aluminum Siding vs. Vinyl Siding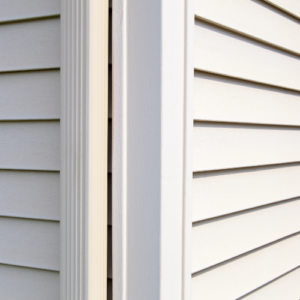 The use of aluminum siding for residential properties dates back to the late 1940s. Aluminum siding became a popular alternative to aging wood siding, which required frequent minor repairs and constant repainting. Aluminum was seen as a more affordable and maintenance-friendly option. 
Aluminum brings the glossy luxury of metal. It is excellent at resisting moisture damage and corrosion because it doesn't have iron in it. 
Vinyl siding, on the other hand, became popular in the late 1970s as homeowners started looking into more customization options. Vinyl was innovative, affordable, and offered many features, making it a great alternative to aluminum siding. 
Vinyl is composed of PVC resin and molded to look like a wood board. It boasts a slick finish and is easy to clean.
Make the Best Choice When Replacing Your Siding
Here's a comparison between vinyl and aluminum siding to help you make the right choice for your home's exterior.
Durability 
Both materials are relatively durable. But when all factors are taken into consideration, vinyl is the front-runner. 
Aluminum is prone to denting and scratching because it's fairly thin. If you prop up a ladder against the wall or the kids hit the siding with a ball, the material may dent, and a scratch in the enamel of the siding will show the metal underneath. 
However, aluminum is an excellent option if you live near the sea because it does not corrode. It is also almost unaffected by extreme cold.
Although vinyl does not dent or scratch easily, it can display other signs of damage, such as puncturing and cracking, especially in severe weather. That said, vinyl siding is often twice as thick as aluminum and is, therefore, much stronger. Scratches don't show because the color goes all the way through.
Affordability 
The cost and value of your new siding matters. You want something that will protect your home for years without breaking the bank. 
The cost difference between the two products is very minimal. In general, aluminum siding is somewhat cheaper compared to vinyl siding because it is often thinner. However, the scratching and denting can result in costly repairs, making aluminum more expensive in the long term. 
With vinyl siding, you'll pay a little more upfront, but it has better cost recovery and increases the value of your home. You'll save time and money on constant repairs.
Climate Comparison 
Aluminum is a more versatile siding material compared to vinyl siding. Its metal composition makes it better suited for various climates, including areas that experience seasonal freezing, heat, and snow. 
Vinyl siding material is best suited to temperate or mild climates without extreme temperatures or soggy conditions.
Maintenance 
Vinyl has the advantage here. Aluminum siding can be scratched or dented easily and must be replaced or repaired based on the extent of damage. In addition, aluminum is susceptible to fading and will need repainting every so often.
With vinyl, the color is baked in during production, so you won't have to worry about fading or scratches exposing what's underneath. The only maintenance you'll perform with vinyl siding is giving it a good cleaning at least once a year.
Versatility
Both types of siding can be ordered in various colors and textures. Vinyl siding has the most plank style, texture, color, and size options. With vinyl, you'll find clapboard, Dutch lap, beaded, scalloped, shake and board, and batten.
Aluminum siding comes in standard styles, including horizontal, vertical batten, and board. It's also available in several wood-like textures, but its metallic appearance makes it difficult to mimic wood siding.
Energy Efficiency
Energy efficiency is one of the most important factors when deciding between vinyl siding and aluminum siding. Your home's siding must be able to keep heated and cooled air inside your house so you don't overwork your furnace and air conditioner.
Vinyl is a much better option when it comes to energy efficiency. It performs well in most weather conditions. 
Aluminum, on the other hand, doesn't perform well in extremely hot conditions. It absorbs heat in the summer and causes your home to become hot rapidly. As a result, you'll have to rely heavily on your air conditioner to keep your home at a temperature that feels comfortable.
Vinyl Siding vs. Aluminum Siding: Which is Better?
From all we can see here, the clear winner is vinyl siding. It's more durable, requires low maintenance, offers more energy efficiency, and increases your home's curb appeal. Sure, aluminum may have a lower upfront cost, but you'll save more over the years with vinyl siding.
The material must be installed with extreme precision to reap the full benefits of your vinyl siding. Trust Gouge Quality Roofing for your vinyl siding needs in Central Ohio. Our team is here to guide you through your options and get the job done right the first time. Contact us today for a free quote.