Do you ever drive or walk through your city admiring the beautiful houses you pass? Classic brick homes and edgy, modern black siding are sure to catch people's eyes.
Perhaps you've decided that you want to upgrade your home's exterior to resemble your favorite design. Or, maybe it's time for a roof replacement, and you want to replace your siding at the same time.
Whether you're building a new house or renovating your current home, there are many roof and siding color combinations to choose from. If you're not sure which color combination is best for your home, you've come to the right place. We'll help you narrow down your color options and share photos of classic combinations.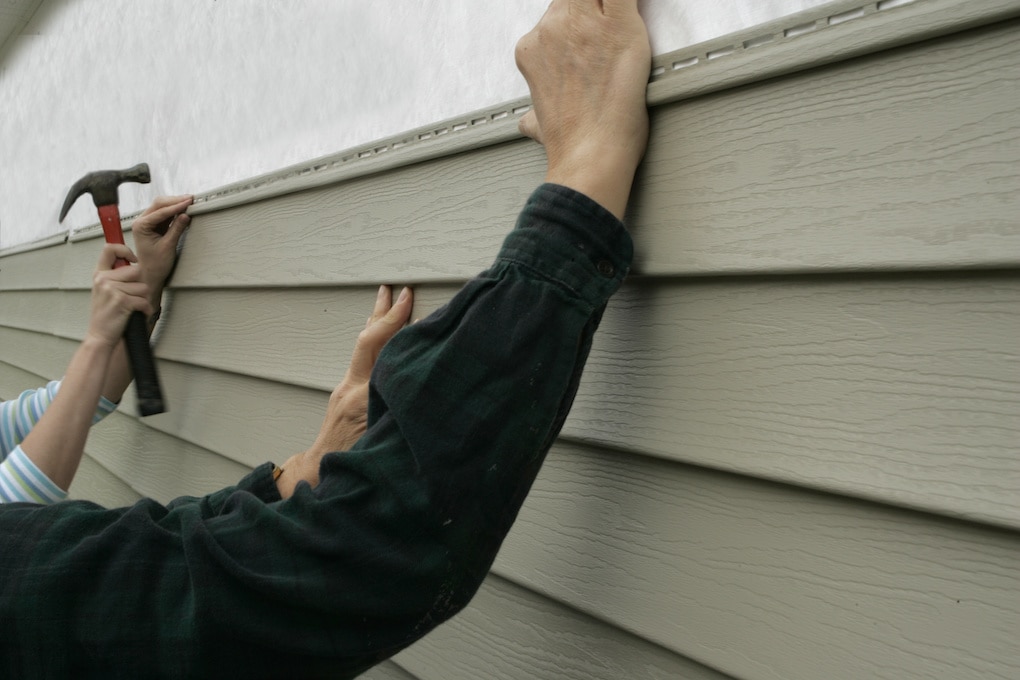 How to Choose House and Roof Color Combinations for Your Home
It can be overwhelming to know where to begin when choosing the colors of your siding and roof. There are dozens of colors and materials to choose from, so it's easy to get lost in the noise. We recommend focusing on the three following categories to help find the combination best for your home:
Subtle vs. Dramatic
One color or design feature can make a world of difference when it comes to subtle or dramatic exteriors. Before you begin looking for siding and roof color combinations, decide if you want the look and feel of your home to be more subdued or striking.
Subtle homes typically feature less contrasting colors, while dramatic homes have more contrast. Neutral colors are great if you prefer a subtle style. A dramatic style doesn't need bold or bright colors, although those are guaranteed to bring the drama. Instead, you can pair contrasting colors, such as blue siding and a tan roof.
Warm Tones vs. Cool Tones
Choosing a color palette is another helpful way to narrow down your color combination. While neutral colors like tan, white, black, and grey are always a solid choice for siding and roofs, many homeowners want to incorporate different colors into their designs.
Colors are typically divided into warm and cool categories. When choosing a color combination for your house, it is usually best to pair cool with cool and warm with warm.
Cool colors include:
Warm colors include:
Do you want your home to give off a calm, refreshing vibe? Then you may opt for cool colors. If you prefer a sense of joy and energy, warm colors might be the best route for you.
White and grey pair well with cool colors, tan and brown pair well with warm colors, and black is a classic choice for any combination.
Contemporary vs. Classic
Finally, help narrow down your optimal roof and siding color combination by deciding between a contemporary or classic design. This tip is most applicable to homeowners building a brand new house, but it can also inform how you want to redesign your current home.
Perhaps you've noticed modern, contemporary homes in your town. Typically, contemporary designs include dark siding, colored metal roofs, and multidimensional materials and colors.
On the contrary, classically designed homes typically feature one solid color on the siding, asphalt shingle roofs, and complementary window shutters. But don't be mistaken— classic designs can still feature a bright color palette or unique material combinations.
Now that you have an idea of different categories that can help you decide on an exterior home design, let's take a look at some color combinations in action. The following eight house and roof color combinations are sure to stand the test of time and elevate your home.
1) Light Grey Siding with Dark Gray Roof
Gray on gray is a very popular home trend, and it is sure to remain admired well throughout 2022 and beyond. When you pair a lighter shade with a darker shade of gray, you don't have to worry about the color washing out. Instead, the contrast presents a subtle yet prominent look perfect for classic and contemporary designs alike.
If you choose to incorporate window shutters, charcoal gray shutters that match the color of your roof will help your home's design feel well-rounded. Consider utilizing white detailing to break up the gray and draw attention to unique areas of your home's architecture.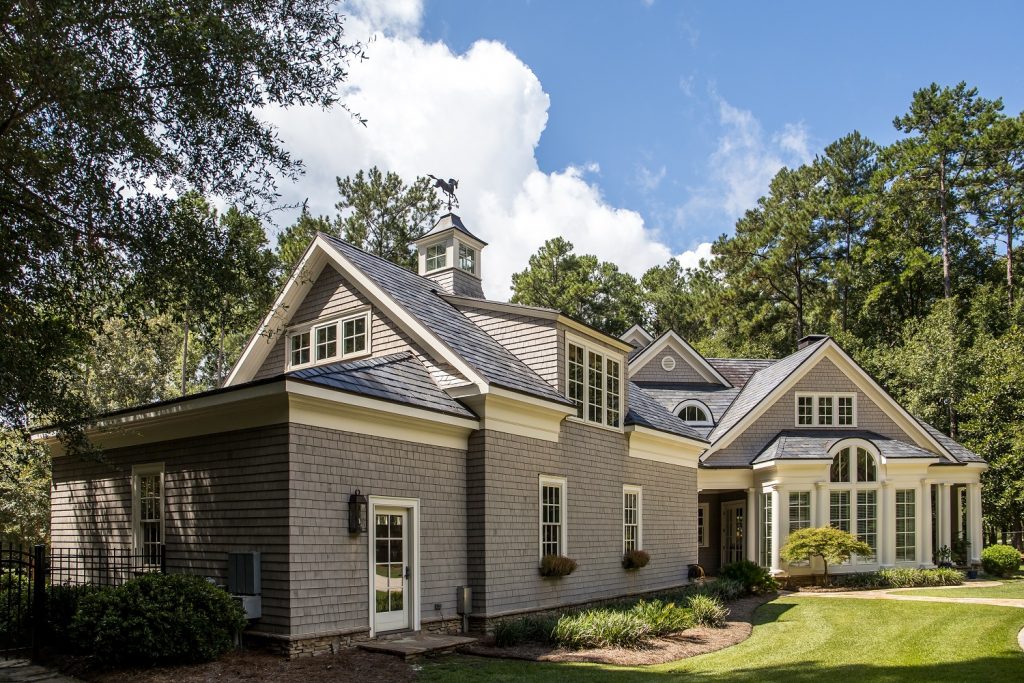 2) White House with Black Roof
There aren't many home color combinations that are more classic and timeless than black and white. White houses with black roofs will truly never go out of style. One of the best parts about choosing a black roof is that you are rarely limited by material selection. Black asphalt shingles and black metal roofs are easy to come by.
White siding is a popular choice because it makes houses look bigger on the outside. So, if you have a smaller house, consider this color combination. Not to mention, white also helps reflect sunlight, keeping the cost of your energy bills down.
Black and white is also a fantastic neutral canvas for any other exterior details you want to incorporate:
Doors
Trim
Landscaping
Gutters
Windows
You can keep accent pieces black and white for consistency or add a bold pop of color, such as a red front door or yellow landscaping flowers.

3) Dark Gray Siding with Charcoal Roof
Stand out from the crowd with a bold, contemporary color combination. Dark colors are showing up frequently in modern housing designs for 2022. Pairing a dark gray house with a dark charcoal roof will make a statement.
When using two very similar colors, break up the dark tones with white trim, windows, and doors. This will add some brightness to the modern, dark design.
Keep in mind that dark-colored houses are usually best suited for cold climates because dark tones absorb more external heat. A dark house in a hot climate may cause your energy bills to spike.
4) Wood Siding with Brown Roof
Whether you're quite literally building a cabin in the woods or if you just want to bottle that cabin feel for your home, consider this cozy combination. When you pair a wood-colored house with a brown roof, you achieve a rustic and relaxing appearance.
Incorporating forest green or tan portions will give this design additional dimension. A brown wooden house like this is perfect for homes with ample greenery in their yards.

5) Red Brick with Brown Roof
Whether it's used on a fireplace, a garden path, or home siding, red brick has been a highly sought-after choice for decades. Red brick will boost your home's curb appeal when done right.
Many roof colors go well with red brick, including black and gray. However, we think that pairing a brown, warm-toned roof with the warm nature of the brick is very appealing.
If your current home already has red brick, but you're looking for a change, definitely leave the red brick alone. You can switch up the color of the roof shingles or update the siding, windows, and doors to achieve a fresh look.
6) Stone Siding with Gray Roof
The cousin to brick houses is stone houses. Both exteriors radiate an expensive vibe. Stone siding accomplishes an impressive combination of modern and classic design. Typically, stone siding has grey undertones paired with beige and tan stones throughout.
A dark or light gray roof would pair excellently with a stone house. A darker roof will give off a more dramatic feel. Either black or white are excellent choices for accent colors.
7) White Siding with Gray Metal Roof
If you want a light, airy design in a hot climate, this color combination is for you. A white house with a light-colored metal roof will help reflect the sun's heat away.
A bright home like this looks incredibly clean and welcoming. This color combination allows for ample opportunities to add punches of color in the details. Add a colorful front door and black window panes for a sleek design.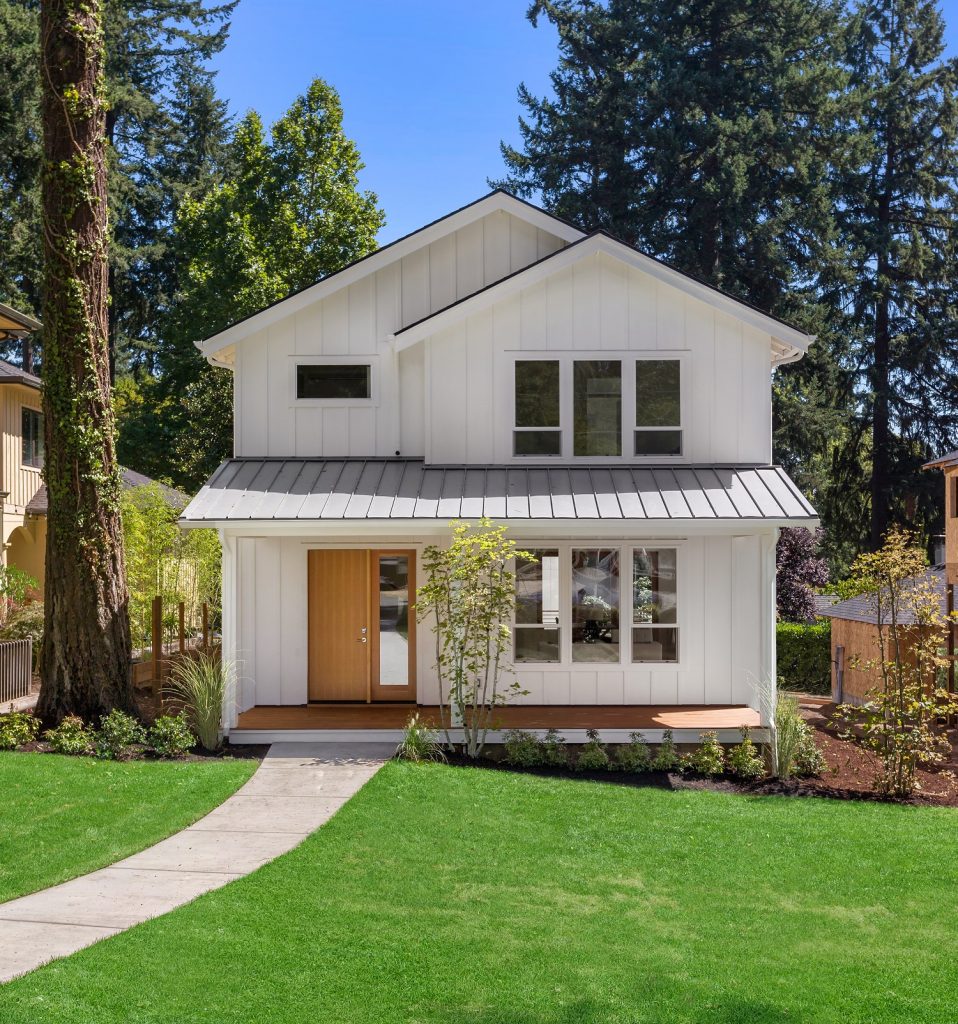 8) Green Siding with Dark Gray Roof
You didn't think we'd leave out any colorful siding, did you? While neutrals are almost always successful, there are great color combinations for people who want a more colorful home as well.
Almost any shade of green siding will look inviting with dark gray shingles. Stone accent columns also make great additions to your home's exterior.
Green siding looks beautiful on homes that have lots of trees and landscaping. With this color combination, your home will transform into a beautiful sanctuary.
Trust Gouge Quality Roofing for Your Project
Are you feeling inspired by these exciting roof and siding color combinations for 2023? So are we! When you're ready to get started with transforming your home, contact Gouge Quality Roofing for all your roofing and siding needs.