Is it your dream to live in one of the neon homes in Venice, Italy? Or perhaps you love classic black and white colonial-style homes. No matter your preference, as a homeowner, you have control over what color you want your roof to be.
But with so many shingle color options on the market, it can be overwhelming to choose the right color. Since shingle roofs typically last between 15 and 25 years, you want to ensure that you absolutely love the color of your roof.
20 years ago you were pretty much limited to a black roof or a dark gray roof. But now, modern homes can take advantage of many different shingle and siding color combinations. This helpful guide will break down the best color combinations and other considerations for choosing roof shingle colors.
Foolproof Shingle Color Combinations
On sloped residential roofs, the shingles are highly visible from the front and backyard. So, when you think about it, choosing roof shingle colors is an essential element of exterior decorating. The right color of asphalt shingles paired with your home's siding will make a huge impression on your home.
Many homeowners struggle to pick a shingle color that complements their home. However, there are a handful of classic color combinations that look attractive on any home. Use this list to match roof shingle colors to your home's exterior:

7 Considerations for Choosing a Shingle Color
While choosing a shingle color can be as easy as referencing the list above, there are other factors to consider as you make your choice. You don't want to commit to a color that you end up not liking in person or that adds to your energy bill. If you're going to have this roof for roughly 20 years, you want to ensure it's the perfect fit! Be sure to consider these seven points before you select a shingle color for your new roof.
1) View Shingle Colors in Person
It can be tempting to only reference convenient virtual showrooms when making a shingle color selection. But think about it—you'd never grab a bucket of paint for your interior walls without first taking home sample paint chips and looking at them in the space. You'd test different lighting conditions and how the paint looks with your flooring.
The same should go for your roof. Drive around your community and look for existing color blends that you're considering. What do they look like in harsh sunlight? What about on a cloudy day? You may find that you love color combinations you weren't considering or that something you thought you'd love isn't actually your cup of tea.
You should also get actual shingle samples from your roofing contractor. Don't just pick the color you like best on its own, but hold the samples up to your home's exterior during different lighting conditions to help give you an idea of the reality of the color combination.
2) Feel Free to Branch Out From What You Currently Have
When it comes time for a roof replacement, you may be tempted to just replace your shingles with the exact same color that you previously had. If you really love the color of your current roof, this is a perfectly fine option! But you should also have the freedom to branch out and choose a new color if you want.
Refreshing your home's exterior with a new shingle color will give it a whole new personality. You might be surprised at how much a new color blend can amplify your home and make it look and feel more modern.
3) Explore Bold, Designer Options
If you have a bold personality, consider a bold roof! Roof shingle colors can make a dynamic statement when done right. At Gouge Quality Roofing, we are an Owens Corning Platinum Preferred Contractor. We love working with Owens Corning because they have the highest quality asphalt shingles on the market.
Owens Corning offers designer shingles in theirTruDefinition® Duration® Designer line. This designer shingle line features high-quality, durable shingles in stunning multicolored patterns that are designed to showcase the aesthetic appeal of your home. When you choose designer options, your home will truly stand out from the others in your neighborhood thanks to the impressive and thoughtful color combinations.
Some of our favorite colors from the Owens Corning TruDefiniton line are:
Aged Copper
Bourbon
Pacific Wave
Sand Dune
Sedona Canyon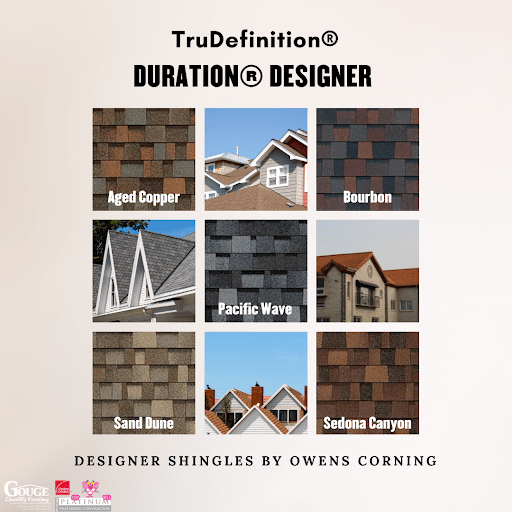 4) Boost Curb Appeal
When making home improvements, most homeowners are greatly concerned with getting a return on investment (ROI). In a 2016 study, Owens Corning found that roof color significantly impacts perceived home value in the minds of consumers and real estate professionals.
94% of consumers and 91% of real estate professionals agreed that a color-coordinated exterior design increases home value.
Your roof typically represents 40% or more of your home's exterior, so choosing an appealing shingle color makes a huge impact. For help with modern shingle color combinations that are sure to boost your home's curb appeal and value, check out style boards and color palettes curated by Owens Corning.
Don't be afraid to lean into trending colors to make your home appear more modern. But if you're concerned about changing trends, you can stick with a classic color combination (like the list in the first section of this article) that will never go out of style.
5) What's Your Regional Climate?
All residential roofing improvements should take your local climate and geography into consideration. In the past, you would rarely see light-colored asphalt shingles in the humid south because algae would cause dark, black streaks on the shingles. However, new algae-resistant technology inhibits the growth of blue-green algae that cause the black streaks, meaning lighter colored shingles are now accessible in humid climates.
Not to mention, a lighter-colored roof can help keep your home's interior cooler on hot days if you have effective insulation and ventilation. This can make a huge difference in energy bills for people who live in hot southern or western climates.
You should also consider environmental factors and the landscape of where you live. For example, homes in the Pacific Northwest look beautiful with gray, brown, and green tones because they blend in with the nearby ocean and evergreen trees. Homes in desert areas look best with warm, clay-colored tones.
The same blue-colored roof that looks beautiful in New England may look washed out in Arizona.
6) Complement Your Home's Exterior Materials
We've touched on matching your shingled roof to the color of your home's exterior, but what about the materials of your home's exterior? Exterior materials can include:
Brick
Stone veneer
Wood logs
Vinyl siding
Wood siding
Concrete
Stucco
Take a red brick home for example. The three-dimensional texture of red brick often features undertones of brown and gray. Since the brick itself is usually multi-toned, you likely want to stray away from a multi-colored shingle roof to prevent clashing. Simple black, dark brown, and gray roofs work great with red brick houses because they create a cohesive design that lets the artistry of the brick shine.
Solid-colored vinyl siding is smooth and sleek, offering room for a multidimensional shingle roof.
7) What's Your Home's Architectural Style?
The final factor you want to consider before choosing a shingle color is the architectural style of your home. For example, historical homes look best with traditional colors like dark gray, black, or brown. These styles include:
Victorian
Colonial
Plantation
Queen Anne
Rural farmhouse-style homes look great with warm and inviting colors like brown, gray, or even green. Ultra-modern architecture may forgo asphalt shingles for a metal roof and opt for an all-black look.
Tip: For any architectural style, it's almost always best to select a shingle color that complements your exterior but still contrasts. If everything matches exactly, your home will look bland and washed out.
No Matter the Color, Choose the Best Roofing Contractor
The color of your shingle roof will only reach its full potential if it is installed correctly. Plus, poor-quality shingles will deteriorate faster, causing you to need a replacement sooner. Working with a top-rated roofing company that only uses the best shingles on the market will ensure you get the most out of your investment.
The contractors at Gouge Quality Roofing know asphalt shingle installation like the back of our hands. We will take the utmost care with your roof installation and be with you every step of the way from choosing your shingle color to cleaning up the worksite when we're done.
Contact us today for a free quote and get started with your roof replacement in no time!